CLICK HERE TO REGISTER FOR THE BEST PRICE TWO PLACES LEFT
Summer starts in 6 weeks, but the school is already giving you a headache, the weather outside terribly unpredictable - what to do during this school holiday? If you're 12 - 19 years old, worry no more! As soon as your Spring holiday starts, we will welcome you to our AKS Anykščiai campsite where we will celebrate the approaching summer together and will spend four days talking, watching movies, building new friendships and making vitamin bombs for each other to get our energy levels back! All activities will be in English, camp leaders will be both Lithuanian and non-Lithuanian.
The most important message about the RE-SPRING Camp is this: since it will be spring outside with very changeable weather, we will not sleep in tents as always, but in the house, therefore, the number of places is very limited. Thirty people can fit to sleep indoors quite well, so the sooner you register, the more chance that you fit!
DATE: 2020 April 14-17. You can arrive on Tuesday evening or on Wednesday morning.
PRICE: 50 EUR (last week before the camp 70 EUR), meals included. CLICK HERE TO REGISTER
ARRIVAL: Participants take care of their own transportation. If you do not have a ride, write to us, we will try to cooperate you with other campers.
ACCOMMODATION: in our heated camp house with conveniences (toilets inside, hot water, electricity). Participants have to bring their own bedding (mattress, sleeping bag or a duvet, socks (several pairs) also, hats wouldn't hurt) - we will sleep on the floor all together. It will not be cold inside, but we will go outside too, so get dressed accordingly.
FACILITIES: in the camp you can find showers, hot water, toilets, and electricity.
FOOD: all meals are provided by us. Feel free to bring your own favourite snacks if snacking is your thing. Attention: if your kid has special dietary requirements, especially severe allergies for common food ingredients, please pack him or her things he or she can eat. We unfortunately do not have resources to prepare a separate tailored menu, we only provide usual and veg options.
PETS: there will definitely be dogs in the camp, probably two or three. They are friendly and sociable, but if you have any allergies, keep that in mind.
RULES: the use of phones, computers, or tablets is restricted in the camp. All the devices remain with the camp leaders. Camp participants are allowed to use them every evening for half an hour. In case of emergency, parents can contact the camp leaders. We ACTIVELY practice zero tolerance to bullying policy. Smoking and using any type of alcohol are strictly prohibited on the campsite and will lead to immediate sending home.
DO NOT FORGET: as the camp is topic based, please bring everything you can think of that would be topic related - brightly coloured clothes, especially green, funny hats/glasses/wigs for the photoshoot, lipsticks and everything you can possibly think of. We will be making smoothies, so you're welcome to bring your favourite fruit.
Once you register please make a deposit of 20 EUR for the camp (it is non-refundable); upon receiving the deposit, we will add you to the list of participants.
The very last week before the camp we will send you a Camp Agreement, a Parent Consent Form, a List of Rules - please bring the signed documents to the camp or send them scanned via email. We will provide you with the list of things to bring and the directions to help you find the campsite.
You can pay the remainder of the cost by bank transfer before the camp or by cash once you arrive. If it is more convenient for you can cover the entire cost of the camp with your first payment, just do not forget to indicate that it is for 'The RE-SPRING camp in Anykščiai'.
We are happy to answer any of your questions in any form – simply ask!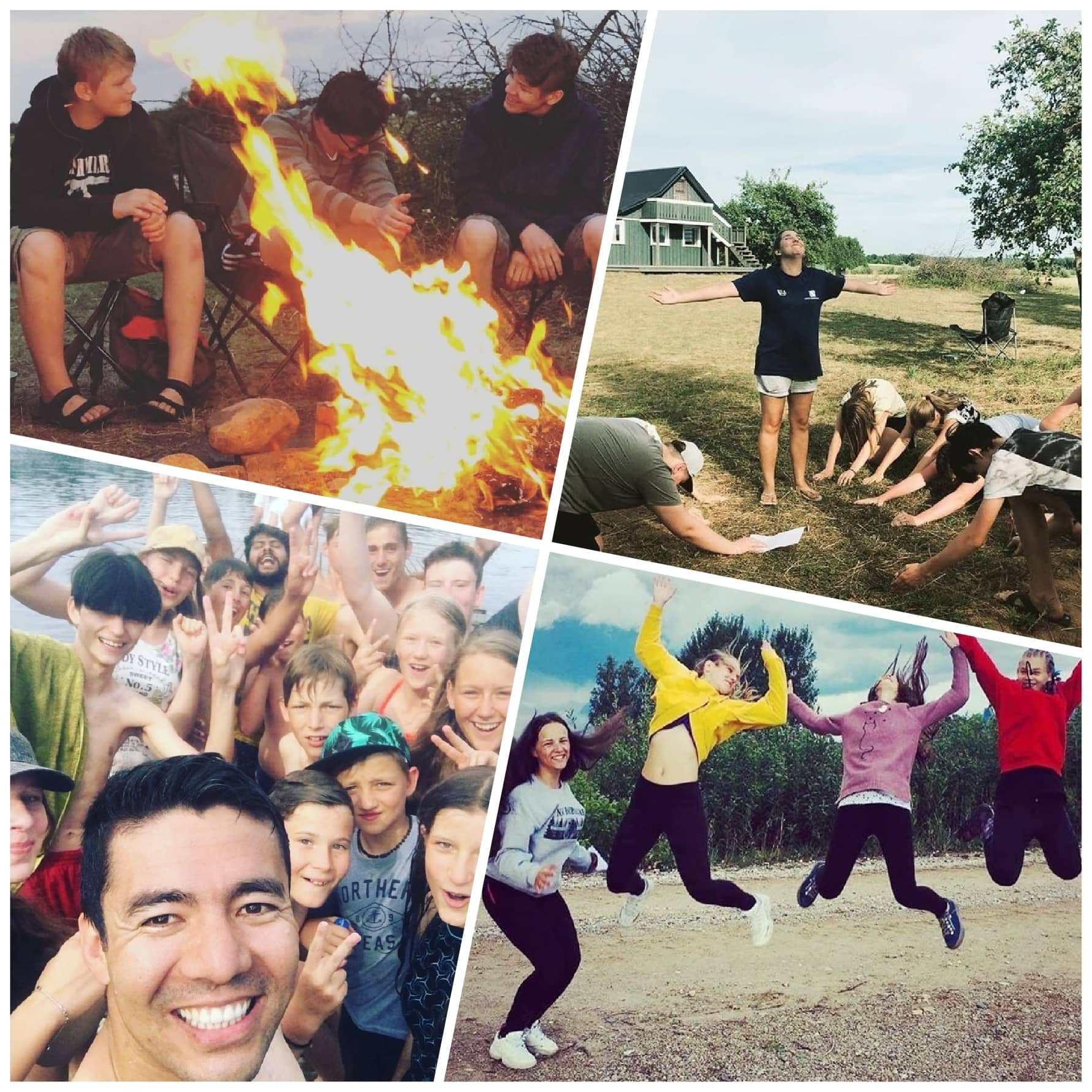 Preliminary Camp Program:
Tuesday, 14 April:
18:00 Arrival of participants, unpacking, settling in
19:30 Opening circle with hot tea
20:30 Team building activities
21:30 Moaning Activity - What has been killing you recently?
22:15 Fire Therapy - burning all your written complaints about life
23:00 Evening circle
Wednesday, 15 April:
09:00 Wake up
09:30 Breakfast
10:15 Morning circle
11:00 Team building games with the newly arrived ones
12:00 Workshop 'Depression: reasons, signs and treatment'
14:00 Lunch
15:00 Questions and Answers: Solvable or Not? One small step at a time
16:00 Surprise Activity! (made by YOU)
17:00 Group work: Dreaming is for everyone! And we start TODAY.
18:30 Dinner and Cleaning time
20:00 Inspirational Movie and Discussion
22:00 Evening Circle
Thursday, 16 April:
09:00 Wake up
09:30 Morning circle
10:00 Breakfast
11:00 Happy Faces' workshop (Photoshoot based)
12:30 Developing a Story in different genres
14:00 Lunch
15:00 For or Against? Taking sides (all group activity)
16:30 All Emotions are Acceptable: anxiety, social awkwardness and other things that kill your confidence
17:45 Words Have Meaning: a little test to see how your words work on others
19:00 Dinner and Cleaning time
20:30 Trip to the observation tower
22:00 Evening Circle
Friday, 17 April:
09:00 Wake up
09:30 Morning circle
10:00 Breakfast
11:00 Forum Theatre (sharing your problems in small groups and later on acting out sketches based on them)
13:00 Cleaning Time
14:00 Good Bye (Tears Optional)
See you on your school holiday!